ANNUAL WINDLESS KITE FESTIVAL
    Indoor Kite Flying Competition and Performances
January 17-18  2015
Featured Flyer-Mario Di Lucca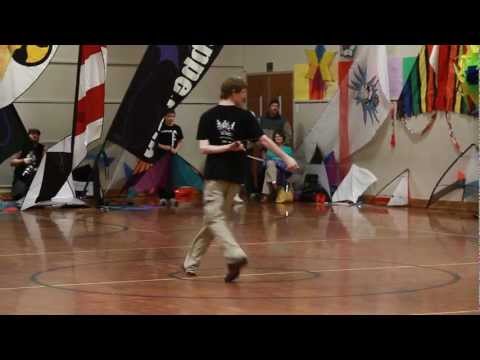 Grab a print-friendly pdf of our flyer.
Times & Admission
Astounding performances will happen both Saturday and Sunday from about 10:30 AM to 4:00PM. Even watching the practices and teaching events is exciting. Admission is by donation as you enter and entrance to the gym is after each group or individual finishes their event. The whole thing is two full days of FUN!
Featured Flyer
Mario Di Lucca , originally from Argentina, lives in Victoria, BC. He has been flying kites longer than he can remember, but seriously for fun since 2003. Mario has competed in precision and ballet, at experienced and masters levels, in each of the individual, pairs and team categories at events organized by the Northwest Sport Kite League. He flies outdoors and indoors, using a diverse array of single, dual and quad line stunt kites.
His latest passion is kite building in which he proudly achieved first places in the Apprentice and Journeyman Handcrafted competition at the Washington State International Kite Festival since 2012. Mario's favorite entertainment is Revolution Kites team flying. He is one of the core member/founders of Team Island Quad, and also formed a pairs team with Terry Wiggill called Quad Amigos. Since 2009, both teams have performed synchronized choreographic routines at several kite festivals throughout BC, Saskatchewan, Washington, Oregon and New Jersey.
Location
Long Beach School Gymnasium  |  Washington and 4th St South  | Long Beach, WA 98631
Photos from 2014
Thanks, Matt Cyphert!
http://adoberevel.com/shares/df3ea36ee52a44199d9a79a303477702
President's Day Weekend
Beamguard Kite Making Workshop
February 14, 15, 16 (Saturday Through Monday) 2015
The President's Day Weekend kite making class taught by Rod Beamguard will offer a chance to build the Not A Peter Lynn kite, another design by John Freeman. Standing 8 feet tall and 6 feet wide, this kite makes a statement in the sky! It is a wonderful flyer and can handle almost any wind. Very easy to assemble, this kite will allow an opportunity for appliqué work and a variety of color combinations.
For registration or information please contact Rod Beamguard at rokkaku345@gmail.com or
(360) 989-0242.
Asian New Year Celebration
February 20– March 5 2015
Friday and Saturday, February 20th and 21st is the opening celebration for the 2015 Year of the Sheep.  
The Kite Museum has collections from ten different Asian countries and this year's special  featured country is Thailand. It all kicks off Wednesday, February 18th at the Neptune Theator for a free viewing of "The King and I" at 1:00PM.
Then the weekend of February 20th, head over to the World Kite Museum for some unique events and hands-on activities: See our Thai kite exhibit. Come and see Cobra kites, symbols of the dragon spirit and some noise making kites as well. Kite maker and instructor, Carl Williamson will be on hand as well to help you make your own kite!! Celebrate Asian New Year and see this expansive collection February 20th-March 5th at the World Kite Museum
DON'T MISS THIS SPRING BREAK – FAMILY FUN
World Kit Museum Long Beach, Washington
From March 20nd to April 20th, the World Kite Museum has special events for every member of your family. First there is the Kite Poster Trivia Game. You can search for and answer the Trivia Questions pertaining to the posters in our Washington State International Kite Festival Poster Gallery. For being good Museum Trivia Buffs, you will receive a packet of coupons from local merchants, such as The Wind World Kite Shop, Dennis Company, Hungry Harbor Grille, Stormn Norman's, Captain Bob's Chowder, Beach Duds, Castaways Seafood Grille, The Imperial Schooner, Mostly Hats, Kompton's Mini-Mart, The Wooden Horse, Tsunami Gifts, Streetside Taco, Paradise Pizza, Beachcombers, and others.
Also while you are in the Museum, there are other things to check out, Here are a few:
• Discover how Soldier's in WWll used kites.
• Fold a flying origami crane for good luck.
• See how the people of Bali use kites to catch bats.
• And makeyour very own kite!!
Open Daily – 11:00 to 5:00
Admission: $5 for adults; $4 over 60; $3 children 3-16
WORLD KITE MUSEUM
303 Sid Snyder Dr – Long Beach, WA
Call—360-642-4020
Celebrate Hometown Tourism Day! Saturday September 27th.
Saturday & Sunday October 11 & 12, 2014
…and always the second Sunday in October…
One Sky, One World – Long Beach, WA
One Sky, One World – Miriam Schaffler,
a regular at One Sky, One World,
shows off a 'Lady Kite Flyer' kite.
In 1986 during the cold war, Jane Parker-Ambrose traveled to Russia in hopes of presenting a three-foot diamond kite featuring the American and Soviet flags on each side of the globe. In Moscow Valentina Tereshkova, the first woman in space and the president of the Soviet Women's Peace Committee received this kite as a symbol of efforts worldwide for peace and understanding.
This was the beginning of this annual kite-flying event celebrated not only in Long Beach but all over the globe.
This is the 28th year of One Sky, One World. You can fly your kite anywhere and can post your image on our Facebook page with a comment.
Here is an interview with Jane Parker-Ambrose, discussing the origins of the annual One Sky One World Kite Fly for Peace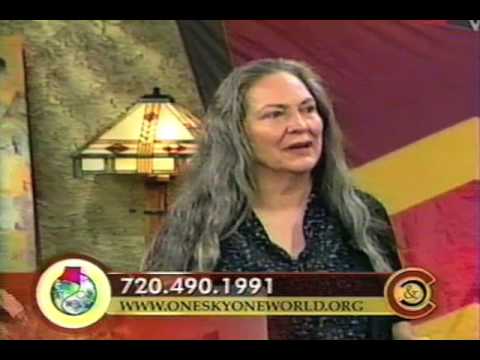 Other questions? Call 360-642-4020 or email info@worldkitemuseum.com
One Sky One World, International Kite Fly for Peace is held the second Sunday of October annually, around the globe.