ANNUAL WINDLESS KITE FESTIVAL
    Indoor Kite Flying Competition and Performances
January 17-18  2015
Featured Flyer-Mario Di Lucca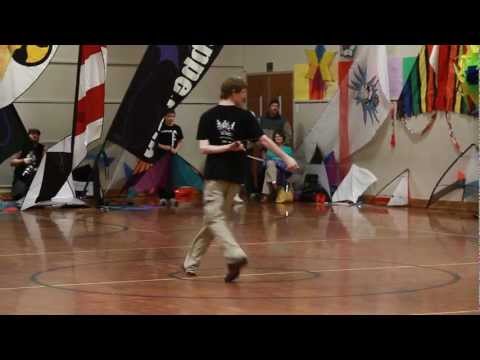 Grab a print-friendly pdf of our flyer.
Times & Admission
Astounding performances will happen both Saturday and Sunday from about 10:30 AM to 4:00PM. Even watching the practices and teaching events is exciting. Admission is by donation as you enter and entrance to the gym is after each group or individual finishes their event. The whole thing is two full days of FUN!
Featured Flyer
Mario Di Lucca , originally from Argentina, lives in Victoria, BC. He has been flying kites longer than he can remember, but seriously for fun since 2003. Mario has competed in precision and ballet, at experienced and masters levels, in each of the individual, pairs and team categories at events organized by the Northwest Sport Kite League. He flies outdoors and indoors, using a diverse array of single, dual and quad line stunt kites.
His latest passion is kite building in which he proudly achieved first places in the Apprentice and Journeyman Handcrafted competition at the Washington State International Kite Festival since 2012. Mario's favorite entertainment is Revolution Kites team flying. He is one of the core member/founders of Team Island Quad, and also formed a pairs team with Terry Wiggill called Quad Amigos. Since 2009, both teams have performed synchronized choreographic routines at several kite festivals throughout BC, Saskatchewan, Washington, Oregon and New Jersey.
Location
Long Beach School Gymnasium  |  Washington and 4th St South  | Long Beach, WA 98631
Photos from 2014
Thanks, Matt Cyphert!
http://adoberevel.com/shares/df3ea36ee52a44199d9a79a303477702